Indiana Ag Scholarships & Grants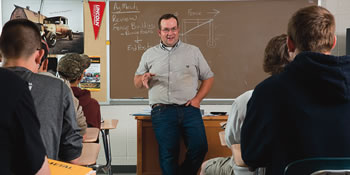 Indiana Farm Bureau cares about the future of our farming communities and those who will be - and are already - involved in the agricultural industry. We sponsor or co-sponsor several scholarships for college-bound youth, current college students and individuals seeking to enhance their careers in agriculture. We also give grants to members and county Farm Bureaus seeking to extend their education outreach in their communities.
Indiana Farm Bureau Scholarship Program Application
Indiana Farm Bureau and the Farm Bureau Foundation will award 13 district and state college scholarships to high school seniors and college students for the current school year. Scholarships may be applied to tuition, housing, books and other educational expenses. Payment will be made directly to the college or university of your choice. The scholarships are the Marion Stackhouse Scholarship; two collegiate Farm Bureau scholarships available to members of the Collegiate Farm Bureau at Ancilla College, Huntington University, Purdue University and Vincennes University; and 10 Carolyn Hegel Memorial Scholarships (one per Farm Bureau District).
The 2020 application process is now closed.
Ag Education and Promotion Development Grant
To provide assistance to county Farm Bureaus or Farm Bureau members and educators that do not have adequate funds for a new program, activity, or to attend an event that enhances the promotion of agriculture and education. Program examples could include, but are not limited to, books for classrooms, incubator systems, supplies for school gardens, etc. Event examples may include the National Ag in the Classroom Conference, AFBF Women's Communication Boot Camp, summer educational programs, specialized educational conferences, etc. Please provide sufficient details/information about your program to give the judges a clear picture of your plans/expectations.
Indiana Farm Bureau Career Enrichment Scholarship
To be awarded to an adult, 21 years or older, who intends on enriching their career of choice.
Indiana Farm Bureau Career Enrichment Scholarship
Purdue University Harry L. Pearson Outstanding Leader Scholarship
To incoming Purdue University freshmen, as well as current students in the College of Agriculture.
Purdue University Harry L. Pearson Outstanding Leader Scholarship
County and District Scholarships
Look into additional Farm Bureau college scholarship opportunities at your county and district level.
County and District Scholarships