Women's Leadership Committee
The District Education and Outreach Coordinators are an integral component of Farm Bureau, dedicated to educating the public through programs and events that promote a positive image of agriculture.

Isabella Chism

Chairwoman
Chism is the Second Vice President of Indiana Farm Bureau. She chairs the State Women's Leadership Committee.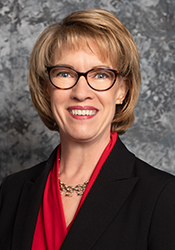 Jan Bohling
District 1
Bohling represents members in Fulton, Lake, LaPorte, Marshall, Porter, Pulaski, St. Joseph and Starke counties.
Position Vacant

District 2
The District 2 education and outreach coordinator represents members in Allen, Elkhart, DeKalb, Kosciusko, LaGrange, Noble, Steuben and Whitney counties.
Marla Storm
District 3
Storm represents members in Benton, Carroll, Cass, Clinton, Jasper, Newton, Tippecanoe and White counties.
Janis Highley
District 4
Highley represents members in Adams, Blackford, Grant, Howard, Huntington, Jay, Miami, Tipton, Wabash and Wells counties.
Margaret Gladden
District 5
Gladden represents members in Boone, Fountain, Hendricks, Montgomery, Morgan, Parke, Putnam, Vermillion and Warren counties.
Julie Golliher
District 6
Golliher represents members in Delaware, Hamilton, Hancock, Henry, Madison, Marion, Randolph and Wayne counties.
Aleta Crowe
District 7
Crowe represents members in Clay, Daviess, Green, Knox, Lawrence, Martin, Monroe, Owen, Sullivan and Vigo counties.
Cindy Ramsey
District 8
Ramsey represents members in Bartholomew, Brown, Decatur, Fayette, Franklin, Johnson, Rush, Shelby and Union counties.
Sheryl Seib
District 9
Seib represents members in Crawford, Dubois, Gibson, Orange, Perry, Pike, Posey, Spencer, Warrick and Vanderburgh counties.
Melba Loyd
District 10
Loyd represents members in Clark, Dearborn, Floyd, Harrison, Jackson, Jefferson, Jennings, Ohio, Ripley, Scott, Switzerland and Washington counties.